Smartix company continues to develop its self-designed parcel locker's system for industrial enterprises. The development team presents specialized module that solves urgent tasks in the field of industrial vending.
Smartix industrial locker system is used to automate dispensing of workwear, tools and any other inventory items for employees. Implementation of modern processes of internal logistics of the enterprise is ensured.
The main problems of dispensing, returning and storing goods and materials are being solved:
1. Manual dispensing of clothes and tools from the warehouse is excluded, which leads to accumulation of employee's queues at the beginning, middle and end of the working day
2. There is no longer need to maintain staff of storekeepers who are keep the warehouse running 24/7 with round-the-clock production. All things are quickly and timely loaded into the cells even before the start of the next shift
3. Cost of moving employees to a warehouse at large enterprises is reduced, lockers can be distributed as close as possible to various workshops and dispense necessary things in this particular workshop
Features of Smartix industrial lockers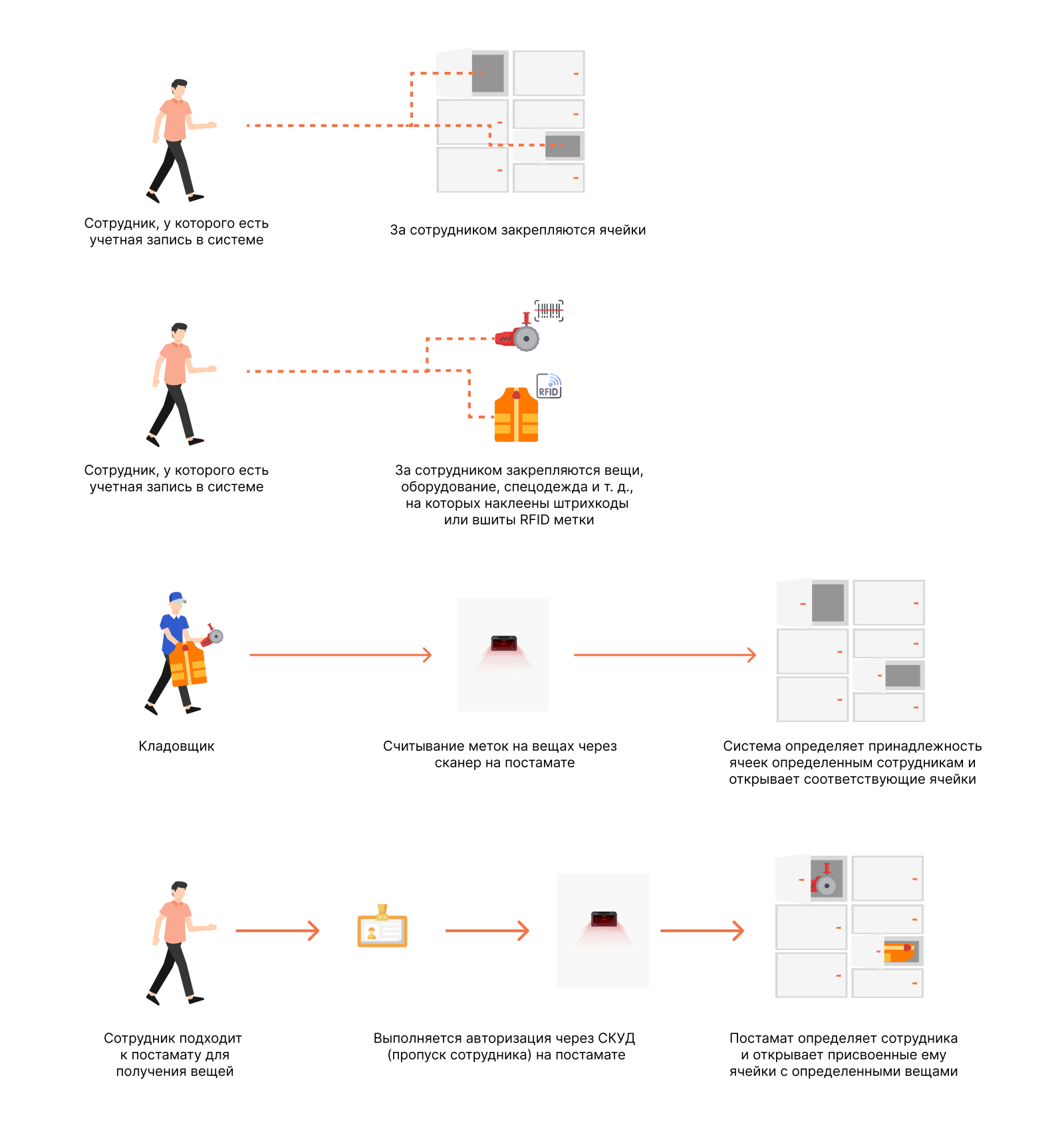 As the main identifier, modern UHF RFID tags with a serial number can be used, which are inseam into each piece of clothing and scanned at the parcel locker. Or barcodes that can be stuck on equipment. As a result, each item in the Smartix back office is assigned a unique ID. Loading things into the parcel locker by supply staff (storekeepers) occurs in an automated mode using scanner built into the parcel locker.
In addition, back-office operator assigns each employee their unique items — in this case, several sets of clothing in the required size. The operator also binds which locker and which cell/cells this employee will have access.
For each employee a personal profile is additionally created in the Smartix back office. The system enters data on the means of personnel identification, which can be RFID cards. For each employee a unique pin code is also generated for those cases when the RFID card cannot be read for any reason.
A separate feature is the possibility of assigning several cells to the staff in various parcel lockers located in different locations. In this case, the employee will be able, for example, at any time to receive and return various equipment and clothing with reference to certain industrial premises, or simply receive the usual set of things as close as possible to their working location at a large enterprise.
Interaction of employees with parcel lockers

When employee brings an RFID card to the locker, system checks personal data of the card, opens one or more personal cells containing things linked to this employee. Similarly, items are returned to cells.
To load items by supply staff, need to log in at special section of the locker interface using pass. Then the supplier scans the item's UHF RFID tag through the device's reader. Based on the unique identifier, the system finds data about the item and the employee to whom it belongs, and then opens his personal cell for entry. Dirty things are quickly and easily replaced with a clean set, and equipment or tools are refreshed.
Implementation

Pokrovsky bread JSC, the largest regional industrial association for the production of bakery and confectionery products, which includes three bakeries, has chosen the Smartix industrial locker box system for automatic dispense of clean uniforms for 600+ employees. Two cells are allocated for each employee — one for a set of clothes, the second for a pair of shoes.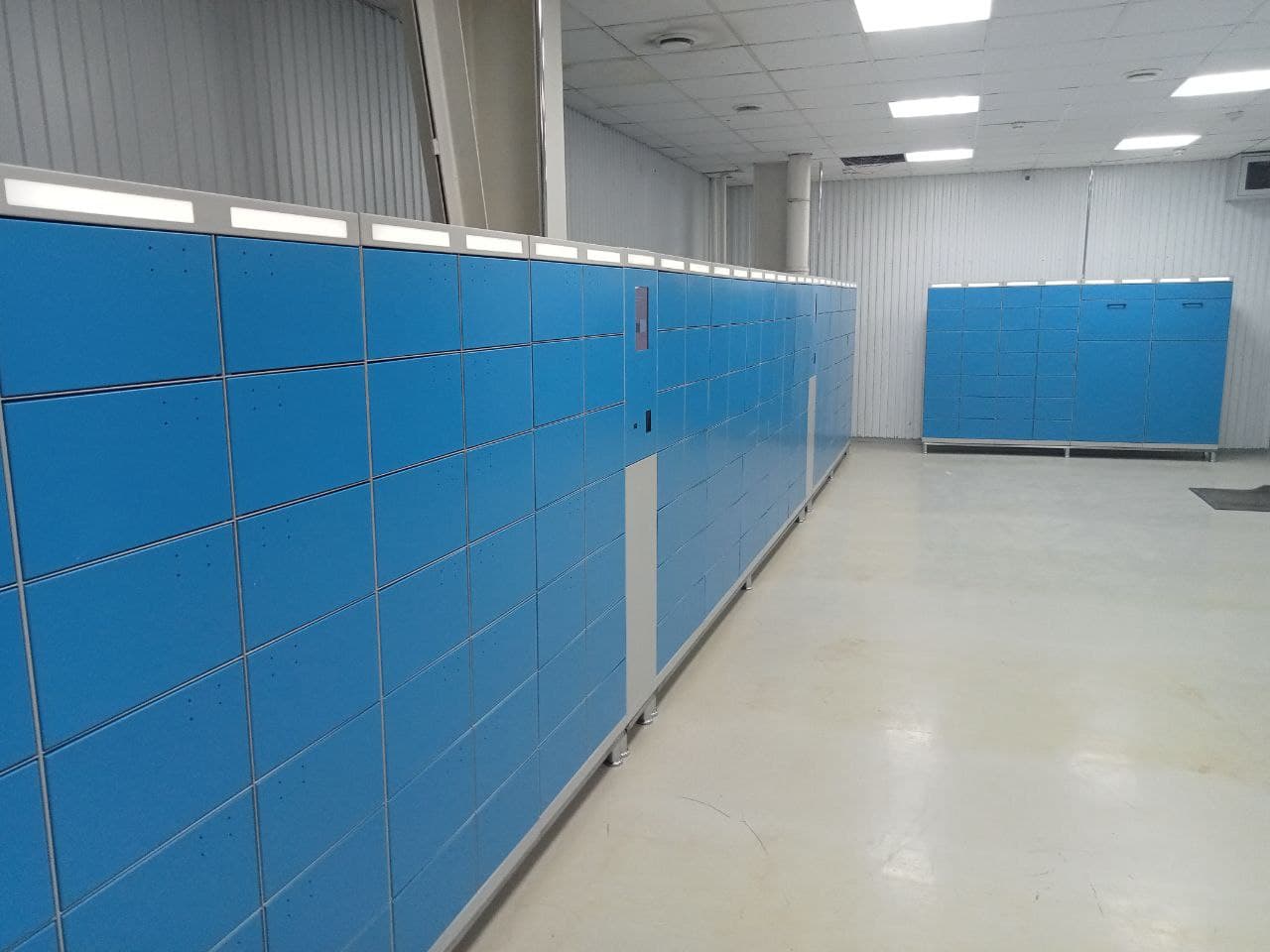 The system supports integration with the organization's ACS, adding users, providing them with the opportunity to interact with lockers using RFID cards or other means of authentication.
Lockers at the bakeries of Pokrovsky bread make it possible to eliminate the need to maintain a warehouse with employees who receive and give out things 24/7. The issue with the queues and the time spent on receiving and handing over sets of work clothes is being resolved. Actions including loading and picking up events are tracked.
Result

The system allows employees to get everything they need for efficient work with minimal time costs. The company reduces the cost of maintaining the warehouse staff, while increasing productivity. And the flexibility in the distribution of lockers allows to install them in those locations where they are most needed.
The solution for industrial lockers is a ready-made boxed system, while customization is supported for any customer requirements, including integration with any access control systems, adaptation to business processes, system development and addition of any functionality following the expansion of enterprise needs.
Smartix company offers a turnkey solution for building systems for automatic dispensing of goods and materials in the field of industrial vending. Lockers have already proven themselves in the implemented project for Pokrovsky bread JSC and are suitable for enterprises of any size and any industrial sector.