A growing number of companies are transferring their employees to partially remote work with periodic visits to offices. Staff are offered a free choice or booking a workplace in the office space without specific reference. Along with the transformation of the approach to workplaces, it becomes necessary to resolve the issue of keeping personal belongings of employees while they are or are not in the office.
Smartix company offers complete solution for automating the storage of employee's belongings in offices and coworking spaces — lockers made of various materials with functional software.
The devices solve the whole range of tasks for the automation of offices with flexible work areas:
Simple and convenient insertion/removal of things into the free cell
Authorization on the device by entering pin code, scanning RFID badges, QR codes or simply inserting things without authorization
Integration with external accounting systems of the customer
Styling interfaces, implementing branded screens
Flexible placement of lockers in different locations or on floors
Smartix lockers can operate as an independent system with basic deposit and return of things by ID, or can be integrated into the customer's IT infrastructure (including "smart office" systems). As a result, employees can open cells through a corporate mobile application or an RFID card of the current access control system, book cells, receive push notifications about forgotten things (storage timer).
Centralized management

Smartix software allows to organize the work of lockers in single locations or on the scale of large companies with many branches.
All devices are combined in a web-oriented back office, where online monitoring of the operation of hardware components is carried out, the status of cells (employment, serviceability, contamination), and lock controllers is monitored. Supports remote software updates, sending notifications to responsible personnel about device statuses and emerging hardware failures (SMS, e-mail, Telegram bot).
Complex supports work in offline mode — if the connection in the office is broken or the servers are powered off, lockers will continue to work and will dispense things from the cells. Smartix solution provides required reliability of the complex for operation in non-standard conditions.
Interfaces styling

Styling of the interface of the web application launched on lockers is provided. The application is responsive and fits different screen formats. A standard interface, basic styling or completely custom, branded UI with UX modification to the requirements of the solution owners is offered.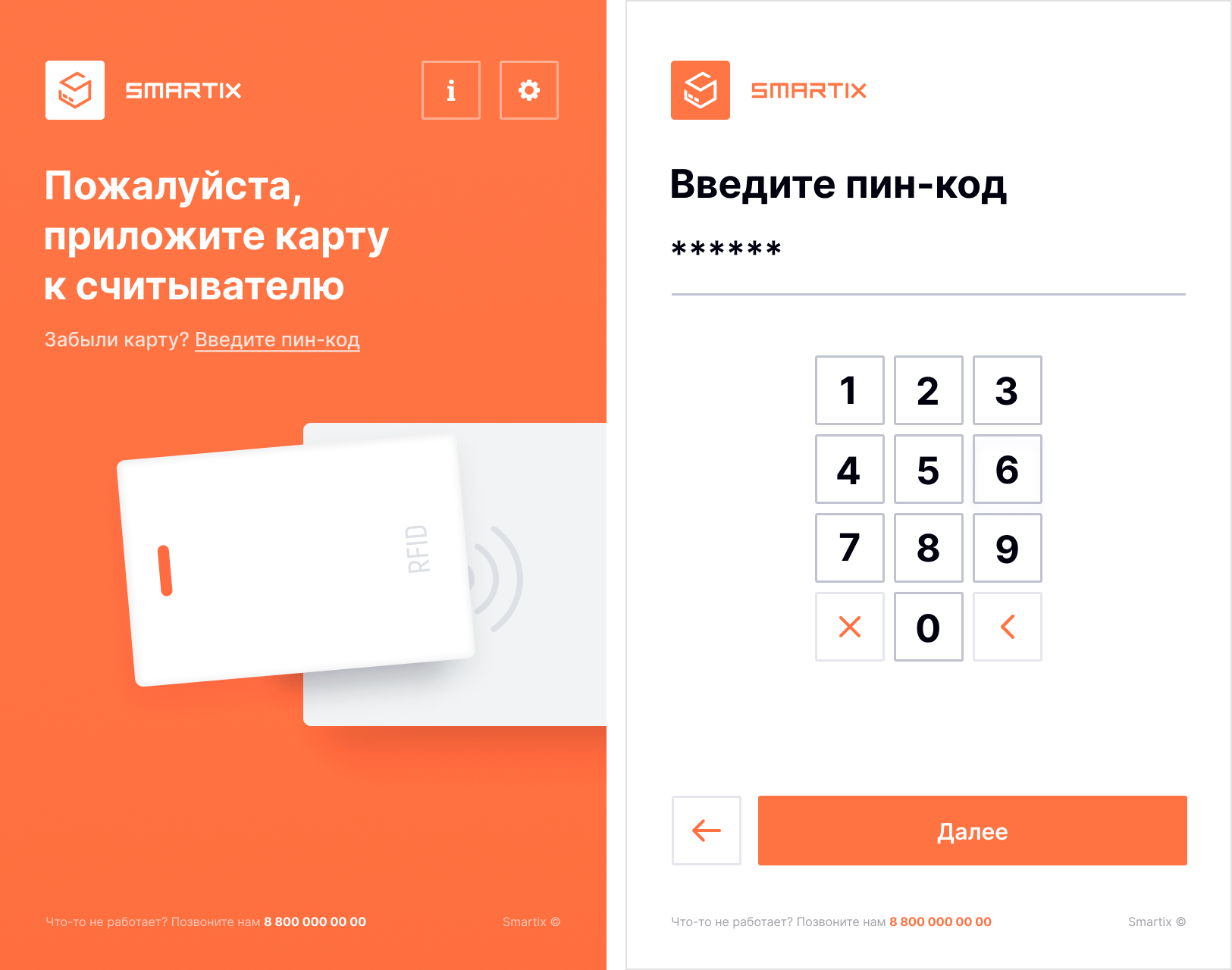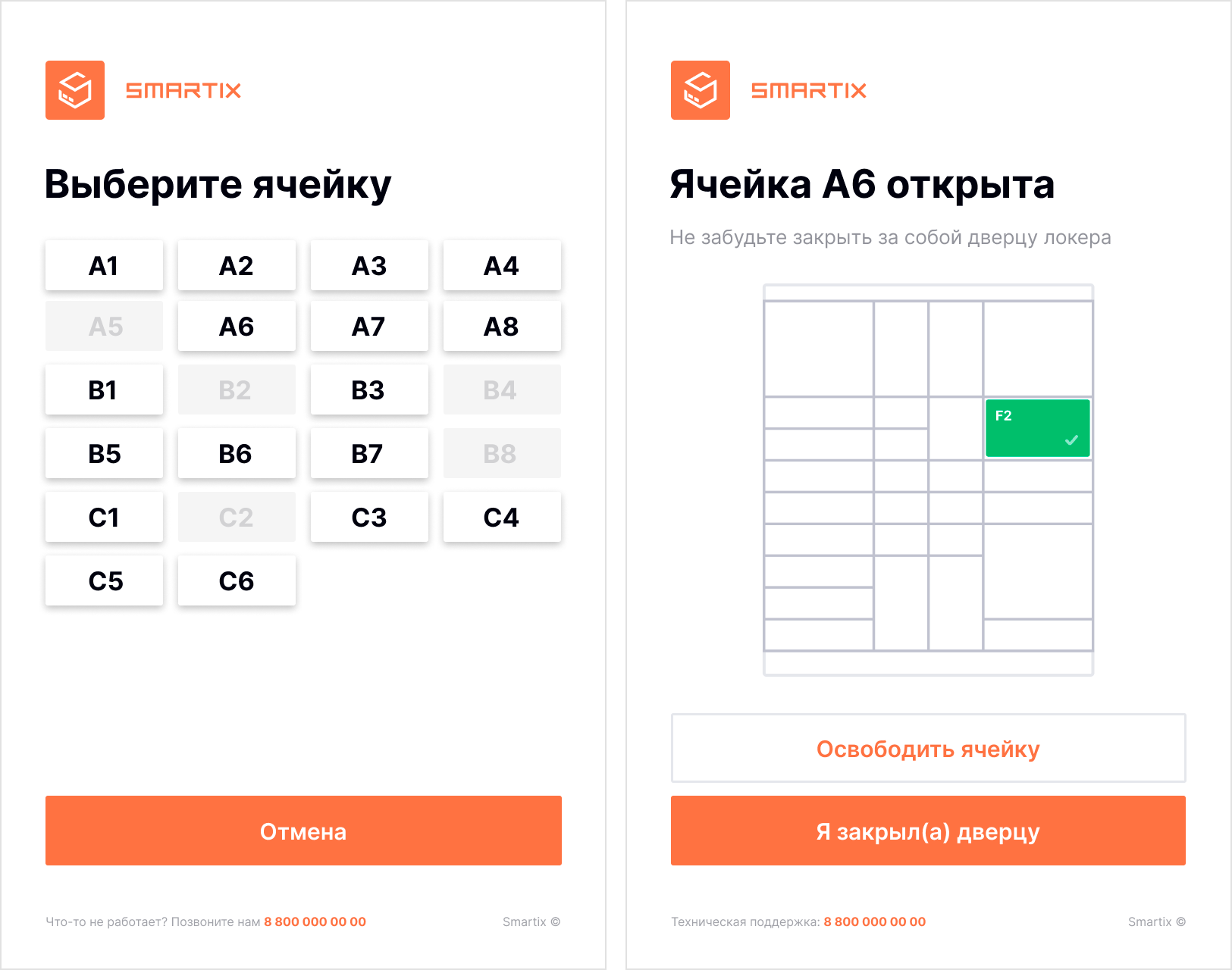 Lockers from various materials

Smartix offers production of lockers from any materials — wood (MDF, laminated chipboard), plastic (HPL, PVC), steel, aluminum, glass. Supporting design and manufacture lockers and cells of standard or custom sizes for installation in any place, for example, in corner locations or arches. Supported engraving, slots, installation of accessories (handles, hooks), painting, pasting and any stylization of the appearance.
Other abilities

Any functional improvements are provided, for example, supplying cells with equipment for charging mobile devices. The work with screenless locker models is supported — the cells are controlled through a mobile application that is synchronized with the device. Screenless locker models reduce equipment costs by eliminating the display module.
Smartix software allows the organization of mixed functionality for different cells of one locker. Supported storage of employee's belongings, reception and forwarding of correspondence, courier documents (functionality of the parcel machine), sale of embedded goods through the cells (vending machine) with payment through remote channels and confirmation in the locker interface or through the built-in POS terminal.
Conclusion

Smartix lockers are a well-thought-out solution from experienced specialists, which includes a range of services for the design and manufacture of equipment, as well as adaptive software with support for standard or custom scenarios of device operation, ability to refine the functionality for the needs of customers. If the customer is already using third-party lockers and is considering switching to modern software, the Smartix system can be easily adapted to any set of hardware components. If the customer requires a solution from scratch, then production facilities of Smartix allow to supply up to 100 lockers per month (4 blocks with 6 cells). Smartix software is delivered in cloud format or licensed for installation on customer's servers. As a result, the hardware and software complex is available both for small projects for the automation of offices and coworking spaces, and for large clients with networks of thousands of devices.