Smartix is one of the leading developers of software for parcel and storage lockers with mixed functionality, offering potential customers software and hardware systems for storage automation from various materials, various designs and for any field of activity.
Advantages of Smartix lockers

Smartix storage lockers can be made of any materials — wood (MDF, laminated chipboards), plastic (HPL, PVC), steel, aluminum, glass. The design and manufacture of lockers and cells of any size is carried out for installation in any place, for example, in corner locations or arches. Supported engraving, slits, installation of accessories (handles, hooks), painting, pasting and any stylization of the appearance.
Unlimited customization options and storage rooms allow customers to seamlessly integrate devices into existing premises design — offices and coworking spaces, fitness clubs, beauty salons, entertainment and leisure centers, shops, malls, train stations, airports and any other premises.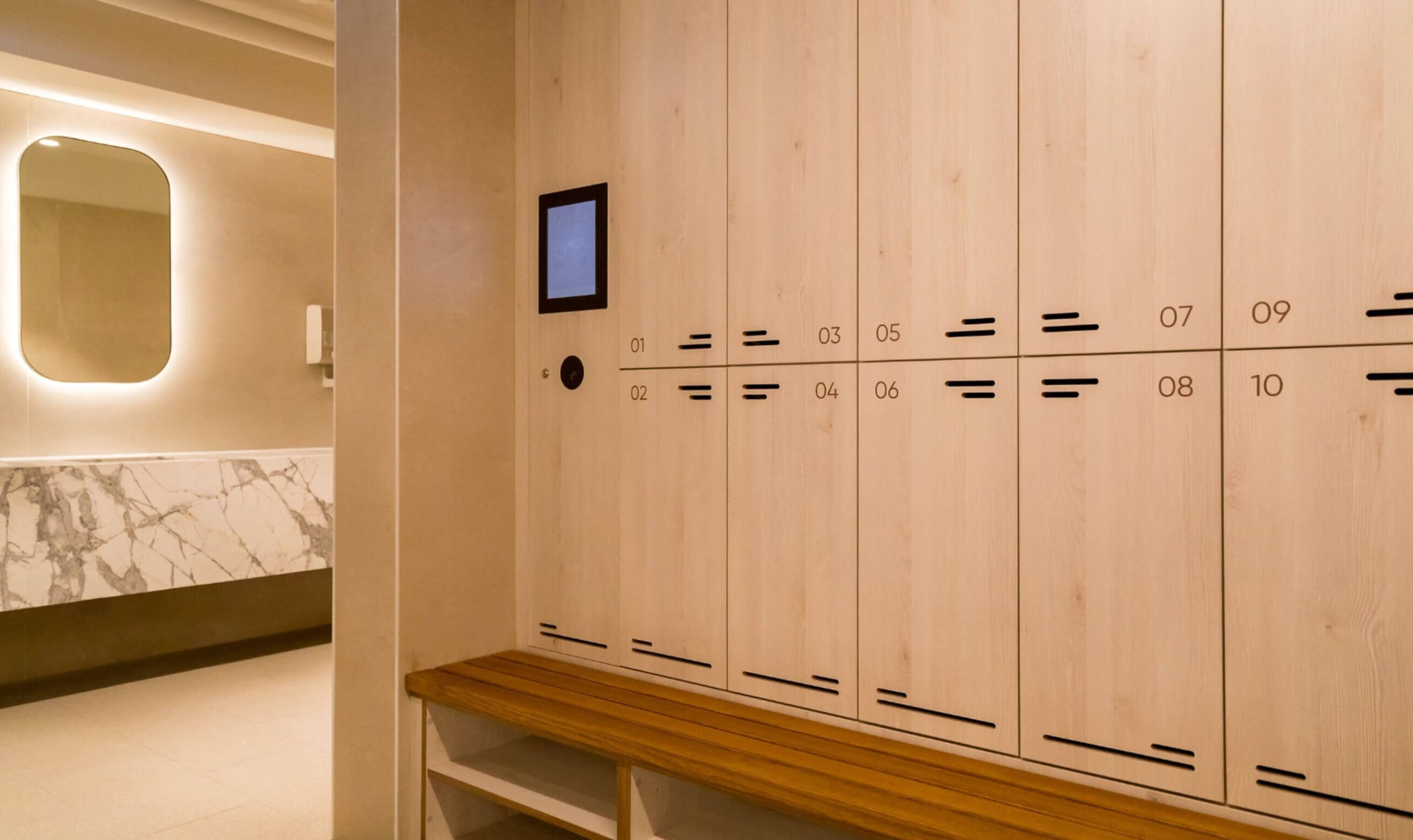 Advantages of Smartix software

1. Various storage types
Storage of personal belongings with free entry and return for employees of organizations, retail customers, visitors of a fitness club, etc. With authorization in the system by entering an ID in the interface, scanning RFID badges, QR codes or without authorization.
If necessary, the launch of paid storage with customizable conditions is supported.
2. Back office for remote lockers control
Smartix software for lockers allows the organization of lockers in single locations or across large companies with multiple branches.
All devices are united in a web-oriented back office, where online monitoring of the operation of hardware components is carried out, the status of cells (employment, serviceability, contamination), lock controllers is monitored. Supports remote software updates, sending notifications to responsible personnel about device statuses and emerging hardware failures (SMS, e-mail, Telegram bot).
3. Integration with external systems
Smartix storage lockers support integration with the customer's internal accounting systems. As a result, the solution is built into existing IT systems and users are able to access cells, for example, through a mobile application or RFID card of the access control system, they can receive push notifications, if they forget things, and track the number of free cells.
Support for integration with ACS systems:
Interaction via API
LDAP protocol support
Direct work with the ACS database
Maintaining accounts in the Smartix back office
4. Styling interfaces or individual design
Modern web technologies are used to create high-quality interfaces that adapt to any screen size. A standard interface, basic styling or a completely custom, branded UI with a UX modification for the specific requirements of the solution owners is offered.


5. Well thought-out solution taking into account the peculiarities of the storage sector
Smartix specialists took care of all possible situations that users may encounter when using lockers, paying maximum attention to customer focus.
The operation of devices in offline mode is supported when the connection is lost, including the return of things. The use of pin codes in the interface for opening cells is supported, if it is not possible to open the door with an RFID card through the reader built into the storage chamber.
6. Experience and specialization
Smartix specialists have many years of experience in the development and implementation of software and hardware solutions in the field of delivery and storage automation based on self-service lockers. A large staff of qualified employees, understanding of the problems and potential business needs for equipment and software allow Smartix to better adapt its own solution to the needs of a particular customer.
7. System support
After launching the system, Smartix specialists perform remote administration of the complex, warranty and post-warranty support — full turnkey service is provided. Also, any software modifications are performed for implementation of new functionality in the network of the customer's devices.
Other features

Smart lockers are used not only for temporary storage of employee's belongings in banks or at enterprises, but also as smart mailboxes in the entrances of residential complexes. Embedding devices in the "smart home" system allows residents to receive notifications through a mobile application about the inserting of correspondence. As a result, there is no need to maintain a mailbox for each apartment, business processes are optimized.
Devices can be supplied with a charger for mobile devices, climate control system and transparent doors.
Smartix software supports work with screenless storage lockers. All management is carried out by clients through a mobile application. Reduces hardware costs by saving costs on the display module.
System allows the organization of mixed functionality based on one locker. As a result, some of the cells can be allocated for the sale of enclosed goods (vending) or mail forwarding (parcel lockers) within the enterprise or from external delivery services.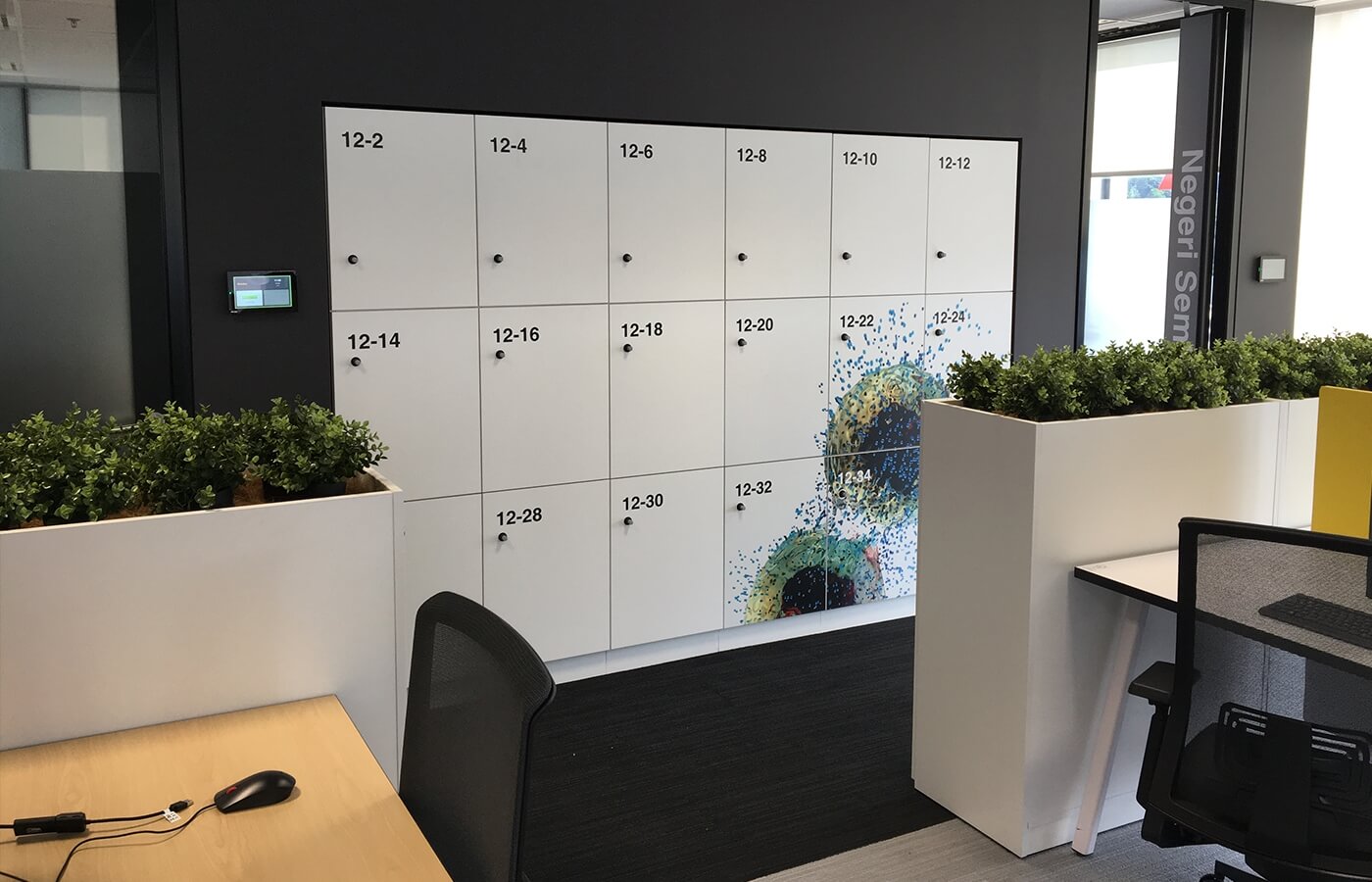 Such a locker can be installed at the reception of a large office or bank, as a result, most of the cells will be set aside for storing employee's belongings with authorization and the rest will remain for contactless delivery and receipt of courier documents, personal orders of employees or direct sale of any goods with payment through the devices interface.
Result

Choosing Smartix lockers customer receives a full range of services from specialists with the appropriate level of competence, wide opportunities for the selection and manufacturing of lockers and adaptive software with supporting launch of standard or unique scenarios of device operation.
Extensive production capacity allows to manufacture up to 100 devices per month, if take into account that one device is 4 lockers, each with 6 cells.
Flexible production and various options for purchasing Smartix software (in the cloud by subscription or installation on customer's servers) make the software and hardware solution equally affordable for projects with a single storage camera and for large networks with several thousand devices.